---
CSA Z96
Canadian Standard for High-Visibility Safety Apparel
CSA Z96, the Canadian Standards Association standard for high-visibility safety apparel (HVSA), is typically considered best practice in Canada and is a requirement for some provinces, including Manitoba and British Columbia. It provides specifications for occupational clothing worn to visually signal the presence of workers by making them clearly noticeable in hazardous situations under any light conditions, including illuminations by vehicle headlights.
CSA Z96 specifies performance requirements for HVSA, including:
Background material

Retroreflective material (high visibility tape)

Minimum coverage for background and retroreflective materials

Tape placement on garments that minimally includes two vertical stripes on the front, a horizontal stripe encircling the waist, and an X pattern on the back.
The standard has three classes of garments based on the coverage of retroreflective and background fabric incorporated in the garment. It also includes three levels, which are based on the width and performance of the retroreflective trim used in the garment.
Garment class is based on the amount of fluorescent or bright background material present in a garment. Body coverage ranges from Class 1, which requires only a harness configuration, to Class 2, which requires torso coverage, to Class 3, requiring torso coverage with additional arm and leg band retroreflective striping.
Minimum areas of visible material in m²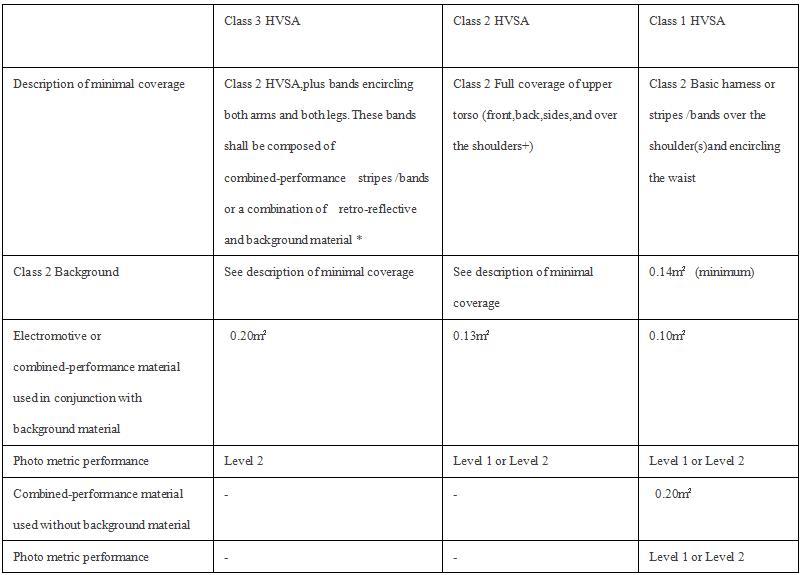 Class 1 garments give good visibility with the lowest required body coverage and require a basic harness, with either triple tape (e.g., yellow/silver/yellow or orange/silver/orange) or combined- performance striping, which is retroreflective material that is also fluorescent. The reflective portions can be Level 1, Level 2, or Level FR.

Class 2 garments provide superior visibility with moderate body coverage, requiring bright or fluorescent background material covering the torso and Level 1 or 2 striping in a harness pattern. Striping can be silver, combined performance, or even triple-tape, as long as the retroreflective portion is 50mm (2") wide. Class 2 has a special exception for bib overalls, which can be compliant even if the striping does not extend over the shoulders, but additional leg band striping is required.

Class 3 garments provide the best visibility and are worn in high-risk situations, such as low-light or nighttime conditions or when visibility is required from long distances due to vehicle speeds exceeding 80 km/h (50 mph). Class 3 requires bright or fluorescent background material on the same areas as Class 2, with the addition of arm and leg bands.

Garment levels are determined by the width and performance of the retroreflective trim used. Level FR is the lowest level of allowable retroreflectivity and the only level at which the width of the retroreflective trim can be 19 mm (or roughly ¾"). Level FR garments must also be flame resistant. For Levels 1 and 2, the retroreflective trim must be at least 50 mm (or 2") wide and contrast with the background material. Level 2 offers the highest retroreflective performance and is typically used in the lowest light conditions.

The CSA Z96 standard does not have specific requirements stating which Classes and Levels to use for different conditions but does offer guidance on how to make these decisions. It suggests that decisions should be based on:

Vehicle speed, volume, and control

Considerations for contrasting with surrounding elements

Light conditions

Other notable hazards such as the risk of flame exposure or electric arc

The fourth edition of CSA Z96 was published in 2022. Significant changes to this edition include:

Updated abbreviations and definitions to align with terminology found in ANSI/ISEA 107.

Changes to reference publications to remove the withdrawn CGSB 86.1 and add ASTM and ISO references.

A Class 2 requirement for leg striping on bib-style overalls was added to Clause 4.5.

Additional Clause content updates.

Annex materials were revised.
Minimum areas of visible material in m²